Come visit my store with unique items and gifts. Click on the banner below. Thanks for shopping with me.
Please sign up below to get my store newsletter when new designs are available. Thank you.
Rat Cookie Cutter and other critters
Have the Illustrated Rat design a portrait of YOUR rat!(Very neat!)
Jagwear(Awesome Rattie Jewelry)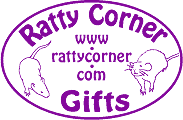 This site offers very unique hammocks. Yes, more hammocks but don't your ratties deserve them?

Acrorats...Awesome Hammocks and other neat cage items

Michigan Rats Storefront: Offers lots of variety of items
EBAY store to the Illustrated Rat(awesome prints)
The Rodent store(gifts for you or others)